...is a combination that I can not recommend! Outsch!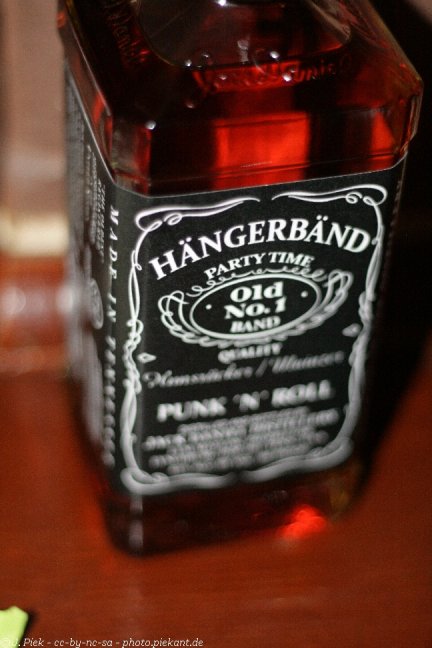 Last night, all hallows eve, I spontaneously joined my friends to see a rock-show at Alexander the Great, 'cause I needed to get OUT and I didn't really care where we went. After beeing stuck at home due to a cold I just needed some social interaction.
My spontaneous move has been rewarded! Not only did I spend a great night out with good friends and got surprised by two very good live-bands, no, I also won the first prize in the raffle: a bottle of Jack Daniels!
Camera always with me, I made a set of pictures again. Unfortunately, my battery died only shortly after the first Band Lucky Twist started playing, so I couldn't make any pictures but two or three calibration-pictures. Check those guys out, I really liked their music!
In between the bands, I rushed home to get my spare battery, and I could shoot the
Hängerbänd
. I had lot of fun :)
So, I'll take another aspirin, and get back to bed ;)
See ya
---
Das Ganze noch mal auf Deutsch:
Rotwein, Bier und Whiskey...
...kann ich in dieser Kombination niemandem empfehlen! Aua!
Gestern Abend, All Hollows Eve, war ich spontan im Alexander the Great, weil Freunde dort hin gingen, und es mir egal war wohin, Hauptsache RAUS. Nach einigen Tagen krank und zu Hause brauchte ich mal wieder etwas Gesellschaft.
Meine Spontanität wurde reich belohnt! Nicht nur habe ich einen tollen Abend mit guten Freunden verbracht und wurde ich von zwei sehr guten Live-Bands überrascht, nein, ich habe bei der Verlosung auch noch den Hauptpreis des Abends gewonnen: Eine Flasche Jack Daniels!
Kamera wie immer im Anschlag, entstand auch gestern wieder ein Set Bilder. Leider gab mein Akku noch während der ersten paar Töne der Vorband Lucky Twist auf, sodass ich außer zwei drei Kalibrierungs-Bilder keine Fotos von ihnen habe. Schaut euch die Jungs mal an, ihr Auftritt hat mir sehr gut gefallen!
Zwischen den Bands bin ich dann schnell nach Hause, habe den Ersatz-Akku geholt, und konnte dann die Hängerbänd ablichten. Hat mir sehr viel Spass gemacht :)
Nun noch ne Aspirin, und ich geh wieder ins Bett ;)
Bis Bald, Jessi